May 28: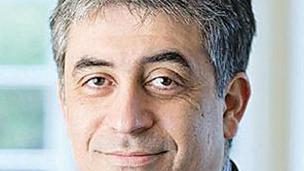 Ahmad Chatila, president and CEO of SunEdison Inc.
Maryland Heights-based renewable energy developer SunEdison Inc. has signed agreements with five municipalities on Long Island, New York, to build seven solar power plants that total 14 megawatts.
The electricity generated from the plants — enough to power more than 1,100 homes — will be sold to Long Island Power Authority (LIPA), an electricity service provider through separate 20 year power purchase agreements.
Terms of the deal were not released. The contracts are part of LIPA's 100 MW Clean Solar Initiative Feed-in Tariff program.
The power plants are also likely to eventually be sold to TerraForm Power, SunEdison's yieldco that helps SunEdison develop projects.
Shares of SunEdison (NYSE: SUNE) were trading at $30.96 midmorning, up less than 1 percent from the opening bell and nearing its 52-week high of $31. Terraform shares were trading at $39.94, also down slightly from the opening bell at $42.15.
Separately, SunEdison also has signed an agreement with South African power producer BioTherm Energy to buy a 60 percent stake in the latter's 48.5 megawatt clean-energy capacity in South Africa, according to Bloomberg. It's part of SunEdison's effort to grow in certain international markets. The projects are likely to be sold to SunEdison's emerging markets yieldco TerraForm Global.
Source: http://www.bizjournals.com/stlouis/blog/biznext/2015/05/sunedison-to-build-7-solar-plants-in-new-york.html?