May 14: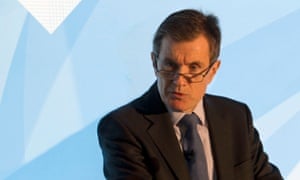 Sir John Sawers joins the BP board as a non-executive member. During his career he has been Britain's ambassador to the UN and its special representative in Iraq. Photograph: Elyse Marks/Edelman/PA
BP's chairman, Carl-Henric Svanberg, said the former spy chief "brings extensive experience of international affairs and geopolitics".
Sawers' five-year tenure as boss of MI6 spanned two prime ministers, Gordon Brown and David Cameron. He has 36 years of experience working for the UK government in international affairs and security.
He has served as the UK's ambassador to the UN, as well as political director of the Foreign Office and Britain's special representative in Iraq. He is chairman and partner of Macro Advisory Partners, which advises governments and companies on geopolitics and global markets.
BP's appointment of Sawers, who will be paid £90,000 for his role, highlights the relevance of geopolitics to a company that is operational in about 80 countries including some of those with challenging political backdrops such as Russia and Iraq.
The oil company said profit excluding non-operating items and accounting effects for the first three months of 2015 fell by 20% to $2.6bn (£1.6bn).
Source: http://www.theguardian.com/business/2015/may/14/bp-hires-former-mi6-boss-john-sawers-oil?